Announcing "HERITAGE OF WAYNESVILLE" Special Edition Prints
September 17th, 2014 by Jonathan Gross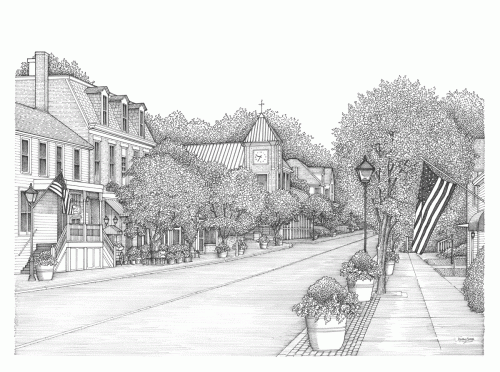 Canada Goose Gallery-owner Laura DeRamus and local pen and ink artist Kathy Gross are collaborating on the release of a series of limited-edition prints which will celebrate the visual charm and rich history of the village of Waynesville. The series is entitled "Heritage of Waynesville".
The first print in the series is called "The Heart of Waynesville", and is now available.
The image measures 11 by 14 inches and is printed on a 13 by 16-inch sheet for ease of framing.
The prints are lithographed on high-quality, acid-free stock in a limited-edition run of only 200. Each print is signed and numbered by the artist, and accompanied by a statement related to the historical significance of the subject depicted. The cost is $75 per print.
There are two options for ordering the prints. Please contact either:
* Laura DeRamus at The Canada Goose Gallery, 97 North Main Street, Waynesville, Ohio, 513-897-4348.
* Kathy Gross at 937-275-3845 or kgrossink@gmail.com
Posted in Uncategorized